Windsurfing and Stand Up Paddle Boarding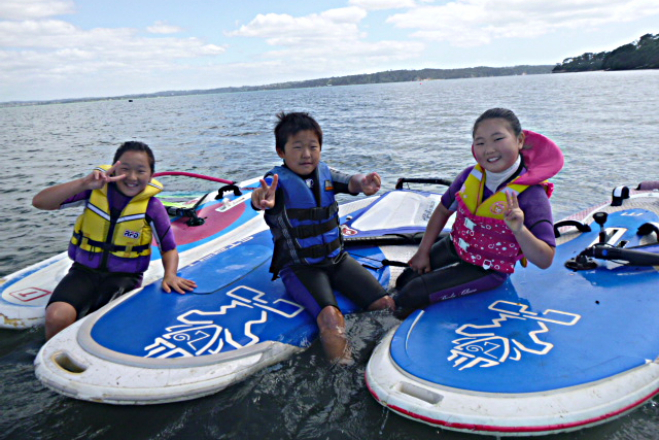 $150 3 day (Morning or afternoon) $285 (Combined sessions)
10am-12pm Windsurf Mornings
12:30pm-14:30pm Stand Up Paddle Board Afternoons
These courses are a great introduction into the fun sports of windsurfing and Paddle Boarding (SUP).
Windsurfing combines sailing skills with surfing –  the 3×2 hour beginner course covers all the basics, partcipants will be able to windsurf across the wind after the first day and after three days will have a good grounding in the sport which can lead onto freestyle or maybe racing in the future.
Instructor student ratio never exceeds 1:6 and students are supervised the entire time
---
Paddleboarding is the worlds fatest growing watersport and ranges from touring secluded backwaters to surfing the huge waves of Hawaii.
The afternoon Paddle board (SUP) session is a great way to build strength, fitness and leads easily into other sports such as surfing.  Conditions are perfect in our shallow and protected sailing area and as the students skills increase we'll tour around the western parts of the waitemata harbour.
Wetsuit and buoyancy aids provided.
Support boat will be on hand for the duration of the course.
---
TBC – Jan (Windsurfing, 10am-12pm)
TBC – Jan (Paddle Boarding, 12:30pm-14:30pm)
TBC – Jan (Combined sessions, 10am-14:30pm)
Full day and weekly options available – please ask
All sessions organised by WNZ Master Instructor – Pete Smith